Dreams to Reality in Forest Lawn
​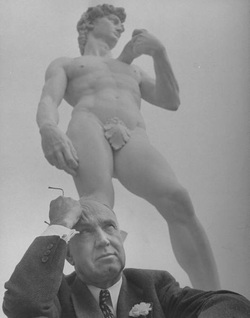 Dr. Hubert Eaton with Statue of David
Dr. Hubert Eaton set in motion from his inspired dreams and conceptions and all of the journey through to completion, so many wonderful plans for Forest Lawn Memorial-Parks. His creative mind opened new vistas for the development of Forest Lawn in Glendale, California, and as his later vision for more locations was realized, he was able to develop and create even more of his dreams for making Forest Lawn Memorial-Parks the premier and foremost private cemetery grounds in the entire nation.

His dream and his sincere passion for the cemetery was to establish the ground level or flat grave markers so that the entire cemetery, (or when he coined the term "Memorial-Park,") was uniform in appearance and general upkeep, and completely devoid of the overtly garish and sad monuments he felt reflected the sadness and grief cemeteries were usually noted for. He envisioned a Memorial-Park where people grieving the loss of a beloved member of their family or loss of a friend would be able to find great comfort, hope, peace, and solace, in the great art works he would procure and would locate throughout the Memorial-Park or as he would call "God's Garden!"

Dr. Eaton spared no expense as he developed each garden and building, including The Great Mausoleum that would be the final resting place for so many families (including himself), who would turn to him for the final interment or entombment of their beloved dead. His personal understanding and appreciation for art, and especially for the great art of Italy and elsewhere, guided him and even inspired him as he continued to expand Forest Lawn Memorial-Park in Glendale, as well as Forest Lawn in the Hollywood Hills. Forest Lawn has also expanded to serving other areas throughout Southern California.


---
Dr. Eaton's Dream was his Passion...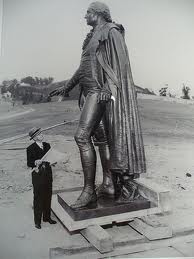 Dr. Eaton & Washington
His dream was his passion. He was the heart and soul of The Builder's Creed and he lived his life in a manner that affirmed his deep Christian beliefs. He sincerely believed every word in his "The Builder's Dream" and his "The Builder's Creed" he inscribed forever in stone adjacent the entrance to The Great Mausoleum in Glendale.

He was a rugged man and yet such a gentle and kind man of strong family lineage and strong character having been born in Liberty, Missouri, a city just north of Kansas City, Missouri. He attended William Jewel College, a Baptist College in Liberty. He was a Baptist and held fast to his Christian upbringing! He was involved in several business enterprises including precious metals mining before God revealed for him what was to become his life's true passion. He was selling cemetery property in a small cemetery in Glendale, California. He gained control of this small cemetery and immediately he began to dream and he envisioned great beauty and he set out to transform the grounds into what we see today as viewed through the magnificent and inspiring art, and the many beautiful gardens and stately buildings he has developed throughout the vaious Forest Lawn Memorial-Parks.

Dr. Eaton had many dreams and many more ideas. In addition, his dreams and ideas seemed always to run concurrent with each other. He possessed the uncanny ability to often predict trends way ahead of most people engaged in the cemetery business. He was a man who was not afraid to implement bold steps and to do what he always felt God inspired him to want to accomplish. After all, Hubert Eaton would challenge himself to greater heights and likewise he always inspired his Forest Lawn associates to be free to make suggestions and to reveal any dreams they too might envision for Forest Lawn. As a close friend and a member of his personal advisory constituency, I too envisioned and appreciated his beliefs. He had very exact visions for Forest Lawn and he did not often compromise his ideas since he had always given so much "before thought" to his visions that he believed were given birth through his dreams that he believed were often inspired by God.

He understood the very bold step he was about to take once he decided to establish and build a mortuary inside and on the grounds of Forest Lawn in Glendale. This decision was met with much skepticism, mainly from other local funeral home owners and operators. His idea to establish a mortuary was actually met with anger and even distrust. After all, local funeral home operators thought Dr. Eaton was now "going too far," and that his particular plan to build a mortuary on the dedicated cemetery grounds was surely destined for failure!

One of the larger mortuary operators even warned Dr. Eaton that he would no longer recommend Forest Lawn to his client families and Dr. Eaton's move would be a direct assault and infringement on his own mortuary operations. Attempts by some other mortuary operators were even filed with the state to "not allow" and to strongly object to such a thing as a mortuary being built on dedicated cemetery grounds.

Dr. Eaton prevailed with his plan and he moved ahead and built the first mortuary in a cemetery in the United States. He did this to be a convenience for Forest Lawn Memorial-Park families, not to harm other mortuaries! He felt it would be a grand idea to assist families by having everything available in one location and this even included the Forest Lawn Flower Shop inside the mortuary. Time proved him right! The mortuary was a great success and continues to serve families today by offering the convenience of having mortuary and cemetery or Memorial-Park operations adjacent to one another. Once the mortuary was completed and opened, Dr. Eaton coined the rather bold phrase: "Forest Lawn, Where One Call Does All!" In addition, another useful marketing phrase: "Complete Undertaking Services Available in One Location!"
​
---
More of the "extraordinary art" featured in Forest Lawn-Memorial Park in
​Glendale, California...
| | |
| --- | --- |
| "The Pietà" is a work of Renaissance sculpture by Michelangelo Buonarroti, housed in St. Peter's Basilica, Vatican City. It is the first of a number of works of the same theme by the artist. The statue was commissioned for the French Cardinal Jean de Bilhères, who was a representative in Rome. The sculpture, in Carrara marble, was made for the cardinal's funeral monument, but was moved to its current location, the first chapel on the right as one enters the basilica, in the 18th century. It is the only piece Michelangelo ever signed. La Pieta was originally created in Rome for the Vatican by Michelangelo in 1498-1499. This rendering was created and installed in Forest Lawn Memorial-Park in Glendae, California in 1930. The marble was from the same mines the original creator used for the original in Rome. | "The Moses" is a marble sculpture by the Italian High Renaissance artist Michelangelo Buonarroti, housed in the church of San Pietro in Vincoli in Rome. Commissioned in 1505 by Pope Julius II for his tomb, it depicts the biblical figure Moses with horns on his head, based on a description in chapter 34 of Exodus in the Vulgate, the Latin translation of the Bible used at that time. Moses was originally created for the Vatican by Michelangelo. This rendering was created and installed in Forest Lawn-Memorial Park in Glendale, California. The marble was from the same mines Michelangelo the original creator used for the original in Rome. |



​©Charles Elias Disney 1997
©Forest Lawn Memorial-Park, Glendale, CA
All Forest Lawn Images used with permission